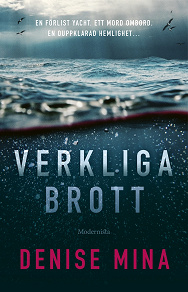 Isbn:
978-91-7893-240-5
Publisher:
Modernista
Category:
Crime & Mystery
Accessible since:
March 2020
---
Verkliga brott
»Oupphörligt överraskande. En helt fantastisk thriller.« Marilyn Stasio, New York Times

»Drottningen av skotsk kriminallitteratur i absolut högform!« People

Dagen då Anna McDonalds stillsamma, respektabla liv exploderar börjar som alla andra dagar. Hon gör barnen klara för skolan, lagar frukost och lyssnar på ännu en true-crime-pod. Men så kommer hennes make nerför trapporna med ett tillkännagivande - och Anna är plötsligt chockad och ensam.
I desperat behov av att skingra tankarna återvänder Anna till poddens brottsfall. Andra människors problem är mycket mer lockande än hennes egna: en förlist yacht, en mördad familj, en möjlig internationell konspiration. Men det här fallet har dessutom en koppling till Anna. Hon känner ett av offren sedan en annan del av sitt liv, ett liv som hon har gjort allt för att lämna bakom sig. Och nu är hon övertygad om att hon vet vad som faktiskt har hänt...
När en oväntad besökare sedan dyker upp utanför Annas dörr och en nyfiken granne börjar lägga sig i, finns det inte längre någon återvändo. Demonerna i hennes förflutna har vaknat till liv- och är nu ute efter henne.

DENISE MINA [f. 1966 i Glasgow] är en bästsäljande skotsk kriminalförfattare. Hennes debut Garnethill belönades med The John Creasy Dagger och sedan dess har hon etablerat sig som ett av de absolut största namnen inom den moderna kriminallitteraturen. Verkliga brott har valts till en av Månadens bästa böcker i O, the Oprah Magazine, Seattle Times, CrimeReads, Publishers Weekly och Minneapolis Star-Tribune.
---