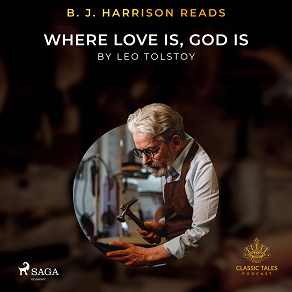 B. J. Harrison Reads Where Love Is, God Is
B.J. Harrison reads the classic by Russian writer Leo Tolstoy. Martin Avdeitch is a devoted shoemaker, who works in his basement and meets sorrow in life. His family has died, except for one son. When he faces a crisis, he turns to God to look for an answer to his hardships and find meaning in his life again. The short story "Where Love Is, God Is" from the late 19th century has been adapted to television, including the award-winning television film Winter Thaw (2016) starring John Rhys-Davies.

Count Lev Nikolayevich Tolstoy (1828-1910), known in English as Leo Tolstoy, was a Russian writer of novels, short stories, plays and philosophical essays. He was nominated for the Nobel Prize in Literature several times. His most famous novels include the realist fiction classics 'Anna Karenina' and 'War and Peace.' Tolstoy's works convey the Russian society of his time through diverse and often tragic characters and complex social and political issues. His works have been captured in arts throughout the decades. Film adaptations include the 2012 Anna Karenina featuring Keira Knightley, based on Tolstoy's novel.

B. J. Harrison started his Classic Tales Podcast back in 2007, wanting to breathe new life into classic stories. He masterfully plays with a wide array of voices and accents and has since then produced over 500 audiobooks. Now in collaboration with SAGA Egmont, his engaging narration of these famous classics is available to readers everywhere.
Listen to sample
---