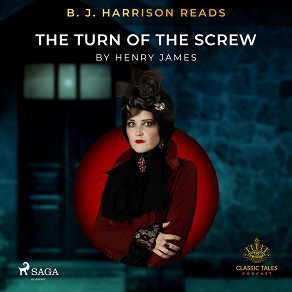 B. J. Harrison Reads The Turn of the Screw
A governess is hired by a bachelor to take care of his nephew and niece. She has barely arrives at the house that she starts seeing ghosts and having other supernatural visions. She decides to share her frightening experience with the maid of the house, Mrs. Grose. The maid, however, is not surprised and tells the governess that the ghosts are those of Peter Quint and Miss Jessel.
What are the ghosts doing in the house? Were Peter Quint and Miss Jessel murdered? Are they seek revenge? Will the governess stay in the house or will she run away?

Find all the answers in Henry James' most famous ghost story "The Turn of the Screw" from 1898.


Henry James (1843 – 1916) is regarded as being one of the greatest novelists in the English language. Born in the United States, he mostly lived and worked in Europe, and he was largely preoccupied with the clash of personalities and cultures between the Old World and the New World. He explored this topic in his famous novels 'The Portrait of a Lady' and 'The Wings of the Dove'. James was thrice nominated for the Nobel Prize in Literature.

B. J. Harrison started his Classic Tales Podcast back in 2007, wanting to breathe new life into classic stories. He masterfully plays with a wide array of voices and accents and has since then produced over 500 audiobooks. Now in collaboration with SAGA Egmont, his engaging narration of these famous classics is available to readers everywhere.
Listen to sample
---