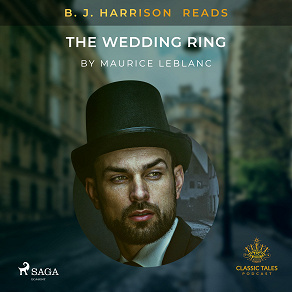 B. J. Harrison Reads The Wedding Ring
From the books that inspired the new Netflix series "Lupin" with Omar Sy.

Yvonne d'Origny's life is full of misery, hatred and fear. She has tried to divorce her malicious husband, but he is willing to go to great lengths to get what he wants – and that's her. He even uses their son as a pawn. How will Yvonne's story unfold, and what will Lupin's role be in it?

The second story in Maurice Leblanc's collection "The Confessions of Arsène Lupin" about gentleman thief and criminal mastermind, Arsene Lupin. A classic detective series perfect for readers who love Arthur Conan Doyle's Sherlock Holmes and Edgar Allan Poe's C. Auguste Dupin.


Maurice Leblanc was a French author during the late nineteenth century and early twentieth century. He lived in Paris during the Belle Époque, and his literary legacy consists of novels and short stories. Though he wrote two well-received science fiction novels, he was most famous for his gentleman thief adventure series, Arsene Lupin.

Thought to be based on the life of anarchist Marius Jacob, who had a very public trial in 1905, Lupin is a whip-smart, witty, and roguishly handsome master of disguise. Leblanc was compared to Arthur Conan Doyle throughout his career, and he even wrote a series of novellas where Lupin is introduced to and subsequently outwits the famous detective, Sherlock Holmes.

Arsene Lupin has inspired many spin-offs including the hugely successful Japanese manga series "Lupin III" and a new Netflix series "Lupin" starring Omar Sy.

B. J. Harrison started his Classic Tales Podcast back in 2007, soaring to the top of the iTunes charts. He masterfully breathes life back into literary classics and plays with a wide array of voices and accents and has produced over 500 audiobooks. His productions of P. G. Wodehouse's Jeeves series and Shakespeare's Hamlet are regularly seen at the top of audiobook charts.

Now in collaboration with SAGA Egmont, his engaging narration of these famous stories is available to readers everywhere.

Listen to sample
---