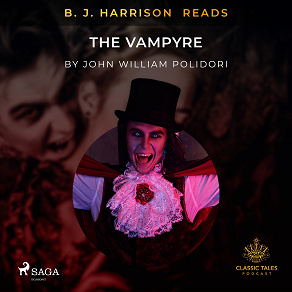 B. J. Harrison Reads The Vampyre
Aubrey is a young Englishman, who meets Lord Ruthven – a mysterious man who has recently entered London's upper class. The two men travel to Rome. There Ruthven does something that Aubrey disapproves, so the young man leaves for Greece. He meets the daughter of a hotelier, Ianthe, who draws his attention. She tells him about a vampire and dies mysteriously after Ruthven also arrives in Greece.

Who is Lord Ruthven and why did he come to London? What did he do in Rome that caused Aubrey's disapproval? What were the legends saying? How did Ianthe die?

Find all the answers in John Polidori's short story "The Vampyre" from 1819.

John William Polidori (1795 - 1821) was an English writer and physician. After he wrote a thesis on sleepwalking, Polidori received his doctorate in medicine from the University of Edinburgh. When it comes to fantasy fiction, he is considered the creator of the vampire genre. Polidori is famous for his short story "The Vampyre", which is considered to be the first modern vampire story. Besides this he wrote several plays, poems as well as some non-fiction.

B. J. Harrison started his Classic Tales Podcast back in 2007, wanting to breathe new life into classic stories. He masterfully plays with a wide array of voices and accents and has since then produced over 500 audiobooks. Now in collaboration with SAGA Egmont, his engaging narration of these famous classics is available to readers everywhere.
Listen to sample
---