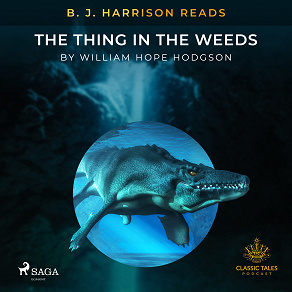 B. J. Harrison Reads The Thing in the Weeds
"The Thing in the Weeds" is a short story by William Hope Hodgson from his 'Sargasso Sea Stories' in which he portrays a monster lurking in the darkest recesses of the unfathomable depths of the sea. An example of Lovecraft's major principle of "fear of the unknown", the terror in this Hodgson story is a mysterious one, despite the fact that it haunts and kills the characters. Hodgson's deep reverence and almost awe-inspiring dedication to the sea and its secrets turn "The Thing in the Weeds" into a hauntingly remarkable story that all fans of horror short fiction should read or listen to.

William Hope Hodgson (1877-1918) was an English essayist and author, who covered a wide array of genres: horror, science fiction, and fantasy. He was fascinated by the sea and dedicated a lot of his fiction to it. He served in the First World War, where he was killed by artillery fire. His best known works include the novels and novellas "The House on the Borderland", "The Boats of the 'Glenn Carrig'", and "The Night Land", as well as more than 50 short stories.

B. J. Harrison started his Classic Tales Podcast back in 2007, wanting to breathe new life into classic stories. He masterfully plays with a wide array of voices and accents and has since then produced over 500 audiobooks. Now in collaboration with SAGA Egmont, his engaging narration of these famous classics is available to readers everywhere.
Listen to sample
---