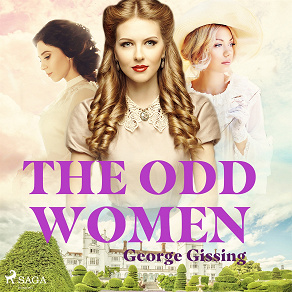 Isbn:
978-87-2647-265-3
Publisher:
Saga Egmont
Category:
Novels
Historic facsimile
Accessible since:
October 2021
Narrator:
Elizabeth Klett
Length: 15 hours 3 minutes
---
The Odd Women
First published in 1893, 'The Odd Women' by Victorian author George Gissing revolves around the themes of feminism, marriage, and love through the lives of several contrasting women. The 'odd' of the title refers to the fact that in Victorian Britain there were more men than women, and many women therefore found themselves surplus. Mary Barfoot is one of these surplus women - a feminist philanthropist, she is training women to have careers of their own. Her close friend Rhoda Nunn is strongly of the opinion that marriage is a disastrous choice for women, but their young protégé Monica Madden goes against them both when she decides to marry a seemingly kind older man. A riveting story, and highly provocative for the time in which it was published, 'The Odd Women' is a sympathetic novel which was ahead of its time.

George Gissing (1857-1903) was a British author from Wakefield, Yorkshire. A studious child, his love of fiction was sparked when he first read Charles Dickens, who would prove to be a lifelong inspiration for Gissing. He would go on to write 'Charles Dickens: A Critical study' in 1898. At the age of just fifteen Gissing was awarded a scholarship to Owen's College University, where he won a number of prizes for his writing. His university education was cut short however when Gissing was found guilty of stealing from fellow students. Following his expulsion and punishment of a month's hard labour, Gissing travelled to America where he worked as a writer, teacher, and travelling salesman before returning to Britain. His first novels, 'Workers in the Dawn' and 'Mrs Grundy's Enemies' were self-published, and Gissing had to supplement his income through teaching. He wrote over twenty novels during the course of his literary career, which all drew on his own experiences of near-poverty, hardship, and his deeply unhappy personal life. His most famous works include, 'The Nether World', 'New Grub Street' and 'The Odd Women'. He died in France in 1903.
Listen to sample
---