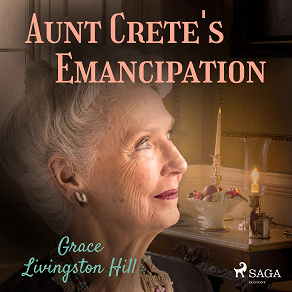 Isbn:
978-87-2647-267-7
Publisher:
Saga Egmont
Category:
Novels
Historic facsimile
Accessible since:
October 2021
Narrator:
Cori Samuel
Length: 2 hours 40 minutes
---
Aunt Crete's Emancipation
'Aunt Crete's Emancipation' follows Miss Lucretia Ward or 'Crete' to her family, as she navigates life with her rude sister Carrie and her spoilt niece Luella. They treat the older Crete like a maid more than a family member but everything will change when cousin Donald Grant visits from out west. Carrie and Luella shun the 'backwoods' cousin but Crete welcomes him with loving and open arms, changing everyone's lives forever. If you love Cinderella this story is perfect for you, it is a loving and relaxed read, full of brilliant characters and description, where goodness is satisfyingly rewarded and evil punished.

Grace Livingston Hill was the pen name of American author Marcia Macdonald (1865-1947). She came from a family of authors and began writing short stories from a young age for her aunt's weekly children magazine 'The Pansy'. As a young woman she wrote to help bring funds in for her family. Funds became an even larger motivation following the loss of her first husband and then father only a year later. In her career, Hill published over 100 novels and short stories, they often featured young Christian women in love, the theme of good versus evil, and the importance of redemption.
Listen to sample
---