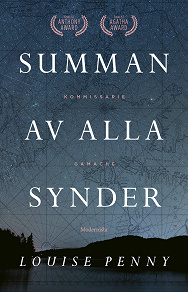 Isbn:
978-91-8023-182-4
Publisher:
Modernista
Category:
Crime & Mystery
Accessible since:
October 2021
---
Summan av alla synder
Efterlängtad ny bok i succéserien om Armand Gamache

»Djup, storslagen och raktigenom enastående. Mirakulöst bra.« Washington Post

Kartan som upptäcks inne i en vägg på bistron i Three Pines tycks först inte vara mer än en kuriositet. Men när Armand Gamache får den som present första dagen på sitt nya jobb på polisskolan i Québec visar det sig snart att den bär på förkrossande hemligheter.
När en av skolans lärare påträffas död hittar man en kopia av den egendomliga kartan i hans bostad. Och vart Gamache än vänder sig ser han en av de unga polisaspiranterna, Amelia Choquet. Hon är tatuerad och piercad, arg och på sin vakt. Hon framstår som allt annat än en blivande polis. Ändå går hon på polisskolan och var en av den mördade lärarens skyddslingar.
Utredningens fokus riktas snart mot Gamache själv, hans koppling till Amelia och hans möjliga inblandning i brottet. Och för både Amelia Choquet och Armand Gamache närmar sig tiden för en uppgörelse med det förflutna.

LOUISE PENNY är en kanadensisk deckarförfattare vars böcker sålt i över nio miljoner exemplar på trettio språk. Hennes deckarserie, som fått henne att kallas »en modern Agatha Christie«, utspelar sig i Québec i Kanada med kriminalinspektör Armand Gamache som huvudperson. Louise Penny har vunnit The Barry Award, The Agatha Award för Bästa kriminalroman (fyra år i rad!) och Anthony-priset sex gånger. Summan av alla synder tog sig rakt in på förstaplatsen på New York Times bestsellerlista när den kom ut i USA.
---