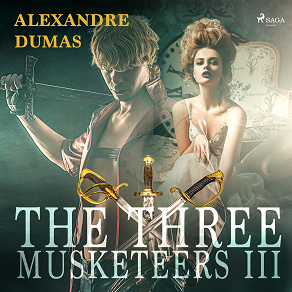 Isbn:
978-87-2697-625-0
Publisher:
Saga Egmont
Category:
Novels
Historic facsimile
Romance
Accessible since:
November 2021
Narrator:
Paul Ansdell
Length: 5 hours 46 minutes
---
The Three Musketeers III
Torn between his duty and his desires, D'Artagnan must decide where his loyalties lie.

Continuing "The Three Musketeers" adventures, this third volume reveals Milady's true identity. It sets her on course for a showdown with D'Artagnan, who is still in love with her. And also brings to light a violent chapter from one of the other musketeers' past.

Meanwhile, France's religious conflicts head towards a culmination—the siege of the city of La Rochelle. The Musketeers must prepare themselves for war.

Deepening the bonds between our heroes, this is yet another boisterous adventure from the pen of Alexandre Dumas.

Alexandre Dumas (1802 - 1870) was a hugely popular 19th century French writer. Born of mixed French and Haitian heritage, Dumas first rose to prominence in Paris as a playwright, but later gained international fame with his historical fiction.

Often co-authored with other writers, these stories wove together swashbuckling adventure, romance, and real events from France's past. Among the best known are "The Three Musketeers", and its sequels "Twenty Years After", and "Le Vicomte de Bragelonne: Ten Years Later". Set across four decades, this trilogy follows the rise of the dashing D'Artagnan—from hot-headed soldier to trusted captain under Louis XIV.

Dumas' other novels include "The Count of Monte Cristo" and "The Black Tulip". His works have been adapted into more than 200 movies, including The Man in the Iron Mask starring Leonardo DiCaprio.
Listen to sample
---