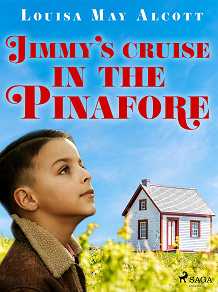 Jimmy's Cruise in the Pinafore
'Jimmy's Cruise in the Pinafore' is another short story from famed American author Louisa May Alcott, that follows the young, kind hearted Jimmy through his difficult adolescence. The parallels between young Jimmy and Alcott in her own youth are profound, with twelve year old Jimmy having to work multiple menial jobs to make ends meet for his family and make up for his absent father. It is a tale celebrating the human spirit, its resilience in the face of overwhelming odds and the importance of family, with a healthy dose of adventure. Jimmy's beautiful spirit and unflinching soul makes this book a beautiful read full of valuable lessons for readers of all ages, as well as anyone who loved 'Oliver Twist'.

Louisa May Alcott (1832-1888) was an author, abolitionist and proud feminist. Her family suffered financially while she was growing up and so she was forced to take on multiple jobs in her youth to help provide for her family. Her writing became her outlet, forming her ideas and beliefs in the empowerment of women and people in to literature that reverberates to this day. Her most notable works include "Little Women", which is now a movie starring Saoirse Ronan and Timothée Chalamet, its sequel 'Little Men' and 'An Old Fashioned Girl'.
---