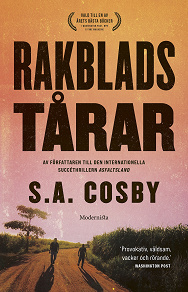 Isbn:
978-91-8023-726-0
Publisher:
Modernista
Category:
Crime & Mystery
Accessible since:
October 2022
---
Rakbladstårar
Ny bok av författaren till den kritikerrosade Asfaltsland
En New York Times bestseller. Vald till en av årets bästa böcker av: Time Magazine, Washington Post, New York Times, NP & New York Public Library.
»Rakbladstårar är en välskriven berättelse och en habil thriller. Hämnd är alltid ett tacksamt tema, och här är den nästintill Shakespeariansk.« Viktor Andersson, BTJ
»Provokativ, våldsam, vacker och rörande.« Washington post
»Mäktig, gripande och förbaskat bra.« Boksniffaren 
Ike Randolph har varit ute ur fängelset i femton år, med inte så mycket som en parkeringsbot på sitt samvete. Men som svart man vet han att det finns anledning till oro när poliser dyker upp utanför ens dörr.
Det sista han förväntar sig att höra är att hans son Isiah - tillsammans med sin vita make, Derek - har blivit mördad. Ike har aldrig fullt ut accepterat sin sons sexuella läggning, men blir förkrossad av Isiahs död. Dereks far, Buddy Lee, har skämts nästan lika mycket över sonens homosexualitet som Derek skämdes över sin pappas kriminella förflutna.
Ike och Buddy Lee, två ex-fångar som inte har mycket gemensamt utöver sitt kriminella förflutna och kärleken till sina söner, förenas nu i ett intensivt hämndbegär. Och tvingas samtidigt konfrontera sina egna fördomar, både om sina söner och varandra.
I översättning av Ylva Spångberg.
S. A. COSBY är en amerikansk, flerfaldigt prisbelönt författare från sydöstra Virginia. Hans debutroman Asfaltsland hyllades av kritikerna och utsågs bland annat till en av Årets bästa kriminalromaner i The Guardian, Årets thriller på Amazon och en New York Times Notable Book of the Year. Rakbladstårar är lika hyllade och uppmärksammade andra romanen.
»Suverän thriller som skär sig rakt in i hjärtat av vår tids viktigaste frågor.« Michael Connelly
»Jag föll hårt för Asfaltsland, men denna bok är om möjligt ännu bättre.« Kicki bokmal
»En så ljuvligt välskriven berättelse. Jag säger bara: läs den!« Titti Schultz , Go'kväll, SVT om S. A. Cosbys Asfaltsland
---